Our Company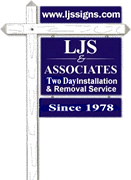 L.J.S. & Associates was founded in 1978 by Ignatius L. Stefanski. From its headquarters in Odenton, Maryland, L.J.S has contracts to install wood post signs for over 950 different Real Estate companies in 9 states.
The company provides 2-business day installation & removal service of wood post residential real estate signs. Each order, received on the web site, is confirmed by e-mail. Then a second e-mail is sent to the agent and/or administrative assistant confirming the date and time of the completion of the work order.
L.J.S also provides many other services for its valued customers. We provide both storage and inventory reports of signs and posts in stock and on display. L.J.S can also provide a free automatic reordering of sign panels, from the vendor of your choice. Brochure boxes can be installed for a nominal fee. Plus L.J.S has sign location marker flags and rider clips for sale as well.
New for this year is the addition of the L.J.S one rider at-a-time service. LJS customers can order a single customized rider - with or without a picture - and receive it anywhere. You can design and order your rider right from our website, and it will be delivered by UPS to any location within 3 days.
L.J.S & Associates provides an 8-foot-tall post with a 4-foot crossbar that holds a sign panel. The post sign creates 12% more leads than the much smaller push-in signs. Post signs create credibility, stability, and professionalism for the company and the agent, while increasing business.